Customer Feedback

Wonderful, unique doll shoes--I look forward to seeing more Thanks!
Wow, these shoes are beautiful!!! Thanks
Very nice - Thank You!
Incredibly beautiful, a work of art, A1 seller
Absolutely Adorable. A Wonderful Piece of ART! A+++++++
Cool piece.

My work is featured in the following periodicals; American Minaturist, Dollhouse Miniatures, Dolls House and Miniature Scene a UK magazine and Miniature Collector.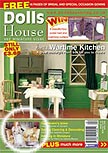 Handmade OOAK Miniatures
OOAK Miniature Collectable Artisan Shoes
O.O.A.K. (one-of-a-kind) miniature shoes custom made to fit Barbie and will probably fit other similar dolls. Each pair are designed to stand alone or securely fit on your doll and come with or without a handmade shoe box.
These little works of art are sculpted of polymer clay, and embellished with a variety of materials such as paint, glitter, fabric, and beads then sealed with a high gloss, acrylic coating. They measure approximately 1/2" x 3/4".

Each pair of shoes are signed and numbered and include a custom made shoe box, also signed and numbered by the artist, Diane Paone. Since they are handmade, there will be slight variations from shoe to shoe which is normal and shows the handiwork of the artist.

If you see a pair of shoes you want or if you need a pair custom made to match an outfit, please email me with your request. These mini shoes are a collectable gift that any Barbie, miniature or shoe collector will treasure. These shoes are more art than toy and are not recommended for young children.

"Pink Pizzazz" Miniature Doll Shoes

These miniature slides a wonderfully unique golden pink color! They remind me of the James Bond movie Gold Finger because they have that "Midas Touch." These strappy little golden shoes are hand crafted from polymer clay, each shoe is sculpted individually without molds and is hand painted. The uppers are delicate satin straps with a gold decoration where the top strap meets the shoe. The lower is sealed with an acrylic coating. Signed and numbered by the artist. These are the 12th pair I've made and are a one of a kind original work of art. SOLD! Back to top




"Mystic" Miniature Doll Shoes

These miniature slides feature a twist in a shimmering deep purple pearl color! The strap is wide on the outside and tapers as it comes across the top of the shoe. These stylish little shoes are hand crafted from polymer clay, each shoe is sculpted individually without molds and is hand painted. They are sealed with an acrylic coating. Pictured here with their own shoe box, and designer tissue paper included with the shoes. The box and shoes are signed and numbered by the artist. These are the 11th pair I've made and are a one of a kind original work of art. SOLD! Back to top



"Spring" Miniature Doll Shoes

These miniature white slides feature crossed satin straps with a festive stylized flower design in the center, perfect for spring! These adorable little shoes are hand crafted from polymer clay, each shoe is sculpted individually without molds and is hand painted. The lower is a spectacular pearl white sealed with an acrylic coating. Signed and numbered by the artist. These are the 14th pair I've made and are a one of a kind original work of art.

SOLD! Back to top



"Tiffany" Miniature Doll Shoes

These miniature shoes are slides in the signature color of the famous Tiffanys jewelry store in New York City. Delicately hand crafted from polymer clay, each shoe is sculpted individually without molds and is hand painted. Blue pearl paint is on the uppers of these shoes and the entire shoe is sealed with an acrylic coating. Pictured here with their own shoe box, and designer tissue paper included with the shoes. The box and shoes are signed and numbered by the artist. These are a one of a kind original work of art. SOLD! Back to top