Original Jewelry Designs by Diane Paone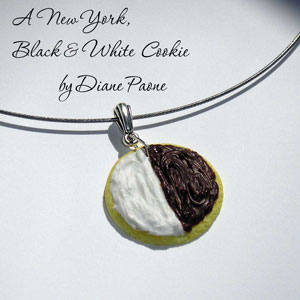 New York Black & White Cookie

Black and white cookie made famous nationwide from the TV series Seinfeld, episode - The Dinner Party. If you ever travel to New York City, you must try this regional favorite, the B&W Cookie, which is really more of a cake than a cookie, covered with vanilla icing on one half of the cookie and chocolate icing on the other half. Make sure you try a fresh one from a real bakery to understand why this is a beloved NYC favorite.

This is a unique, artisan made, Black & White Cookie pendant necklace. Cookie is 1-1/8 inch across. Made of sturdy polymer clay, with a lead-free, antiqued silver colored bail 1/2 inch long. Signed and dated on the back. It is soooo New York and so very cool! I get compliments and smiles from people every time I wear it!

You will receive a cookie very similar to the one shown. Please contact me if you wish to see a photo of the actual cookie before you purchase.

Your choice of Black or silver choker necklace (please specify when making payment). The choker is 16" steel cable wire 1mm in diameter with a smooth plastic coating in clear or black. The super strong magnetic closure is a nickel-free, white-plated clasp. The pendant is removable, so the choker can be used with other jewelry pendants. $25.00 each

Matching earrings are $20.00 per pair. Your choice of drops or post style.

Exclusive earring designs by Diane Paone. Sterling Silver earrings with Swarovski crystals, semi precious gemstones, shell or lamp work beads. Designed to add a bit of bling to any wardrobe. Reasonably priced for your holiday season shopping at $20.00 per pair.

Mardi Gras Mask Stick Pins

My Mardi Gras STICK PINS are brand new for 2009. Keep a piece of romantic, New Orleans close to your heart with my one of a kind stick pin. Every pin is signed and numbered. I make these pins with the same attention to quality and detail as my doll house miniature Masquerade Masks. I use freshwater pearls, genuine Swarovski crystals, antique beads and semi-precious beads, stone and shells. Each mask is unique. A portion of the sale of each of these pins this year will go to help the victims of Hurricane Katrina in New Orleans. Wear this pin and spark a conversation, you'll be reminiscing about New Orleans in no time. Laissez les bon temps roulez!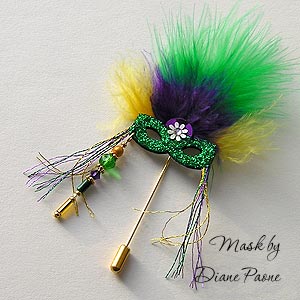 Emerald Green mask pin
Genuine Swarovski crystal in the center of a white flower. Tassels in Mardi Gras colors of yellow, purple and green adorn the sides, and a trio of Mardi Gras colored feathers crown the top some feathers appear to be blue due to camera lens - they are purple. The beaded handle that swings freely. On the handle is a miracle bead, 3 vermeil ornaments (vermeil is sterling silver plated in 18-22kt gold), a faceted, green antique glass bead, a genuine Swarovski crystal and a semi-precious malachite bead. Glass beads make up the rest of the handle. Mask is approximately 1 1/4" x 2" (3 cm x 5 cm) not including feathers & tassels.Approximate over all size is 2 1/2" x 3 1/2" (7 cm x 9 cm) $50.00.

Sold!



Royal Blue mask pin
Tassels in of blue and silver on the sides, and a mass of snow white feathers crown the top with a mesh fan adorned with glitter. The beaded handle swings freely and the bead move up and down the handle for fun. On the handle is a frosted glass bead, gray fiber optic bead (which is real quartz that is aligned and pressed together), a semi-precious denim lapis bead and a genuine Swarovski crystal. Glass beads make up the rest of the handle. $49.95 Shipping is $3.00 in US ($1.50 with another item) $5.00 International.
Sold!